Physical Editions Exclusively at
www.strictlylimitedgames.com
Let us introduce you to one of Japan's most promising devs of today, namely the brilliant one-dev-team behind independent studio HEY! Through collab with equally awesome publisher Hanaji Games, we're stoked to offer not just one, but TWO dope shoot 'em ups in a physical format. Dezatopia and Mecha Ritz: Steel Rondo is heading your way in a convenient combo-pack, only available as a Nintendo Switch physical limprint at Strictly Limited Games (that's us!).
Main menu screen of awesomeness!
A game that adapts in-real-time to your performance? Say no more, we've got you covered! Well, not actually covered… you'll still be facing a myriad of bullets heading your way. The difference is that there's a really clever dynamic difficulty system in place. It's almost as you steer the difficulty during gameplay… almost. It's quite hard to explain, as you really ought to experience it firsthand to fully grasp this cool gameplay feature.
Colorful explosions!
Meet Momoko, a japanese school girl fashionista who just happen to stumble across an unknown underground (literally!) civilization. Together with the creatures from underground, Momoko plots to conquer the overworld and combine it with the civilization below to create a brave new world – Dezatopia. It's now up to Momoko's classmates Akane and Aoba to stop Momoko's evil plan and bring peace to the world. To their help, they have an upgradeable speleological fighter ship – the fearsome Pink Aurora. Quite the quirky story, indeed!
Quirky characters!
The levels are all diverse in nature, and the same goes for the awesome and imaginative bosses you'll face throughout the game. Everything is accompanied by hugely engaging music that sounds pretty much like it's been taken straight outta some next level 16-bit game. All-in-all, Dezatopia is truly a shoot 'em up like no other. We kindly urge you to experience it yourself.
Terrific tea time terror!
You know what? Just as Dezatopia does, Mecha Ritz also adapts its difficuty level in a masterful way. It auto-adjusts itself seamlessly in real-time based on your gameplay. This makes the games enjoyable by shoot 'em up newbies and old-time veterans alike. While Dezatopia is horizontally oriented, Mecha Ritz goes vertically and of course you'll also be able to TATE it like any true shoot 'em up enthusiast would. Our story begins with a young girl named Veloce, who just happened to invent a Mecha that ends up terminating pretty much all of humanity. "Oops!", to say the very least.
Non-stop action!
You play as a Mecha that's been inbued with human will, fighting your way through wave upon wave of enemies. As the fight goes on, the truth of the world slowly reveals itself to you… and it certainly seems like there's far more than meets the eye for you to discover. 
Customise your Mecha!
Of course, Mecha Ritz will also offer you customization and exciting unlockables. All of this will be dearly needed as you deep-dive into the frantic arcade shoot 'em up feast that lies ahead. With a visual explosion of vector graphics, mixed with distinctive pixel art, this colorful retro world sets the perfect athmosphere for a great shoot 'em up session across 15 stages and 50 bosses.
TO SUMMARISE
DEZATOPIA
21 Bosses across 24 Stages
21 Route Choices to make
Purchase Upgrades on the Fly!
Auto-adjusting Difficulty Level
Intriguing Narrative
Unlockable Bonuses
Hidden Items in Each Stage
Vivid Pixelart, Smooth Animation
40+ Track FM-synth Soundtrack
MECHA RITZ
50 Bosses across 15 Stages
Branching Paths & Multiple Endings
14 Playable Mechas
Auto-adjusting Difficulty Level
Apocalyptic Storyline
Exciting Bonuses
Mix of Vector- and Pixel Graphics
60 Track FM-synth Soundtrack
ANNIVERSARY DISCOUNT!
As a sign of appreciation for the undying support
of our community,
we'll give an automatically added
15% discount
on your order*
if created within the first 24 hours of Dezatopia & Mecha Ritz being live.
Any order made within this time frame,
which inlcudes at least one copy of Dezatopia & Mecha Ritz,
will be given the discount!
Pretty neat!
As Dezatopia & Mecha Ritz is Switch-only, we'll also add all in-stock games (PS4, PS5 and legacy cartridge releases) so that you more easily may take part of the deal. We'll also add DRAINUS to the mix, if you have yet to pick it up. 😉
Please, check the details here below on which game to add to receive the discount. Only one of the games mentioned here below is needed for the discount to appear at checkout.
An eligible order includes one of the following…
Dezatopia & Mecha Ritz (NSW)
Dezatopia & Mecha Ritz XLE (NSW)
DRAINUS (NSW)
DRAINUS Collector's Edition (NSW)
Any In-stock PS4 Game
Any In-stock PS5 Game
Any In-stock Retro Cartridge Game
*Please note that this offer is a once-per-customer deal. The discount does not apply to shipping costs. However, feel free to order as many games in the same order as you'd like. You'll still end up with the discount, as long as at least one copy of Dezatopia & Mecha Ritz (or any of the above mentioned games) is incl. in your order.
As always,
our Strictly Limited edition will feature
sequential numbering, an individual number for each and every copy!
The world exclusive Strictly Limited
Nintendo Switch edition is limited to 2,000 copies
– priced at
affordable 39.99€
.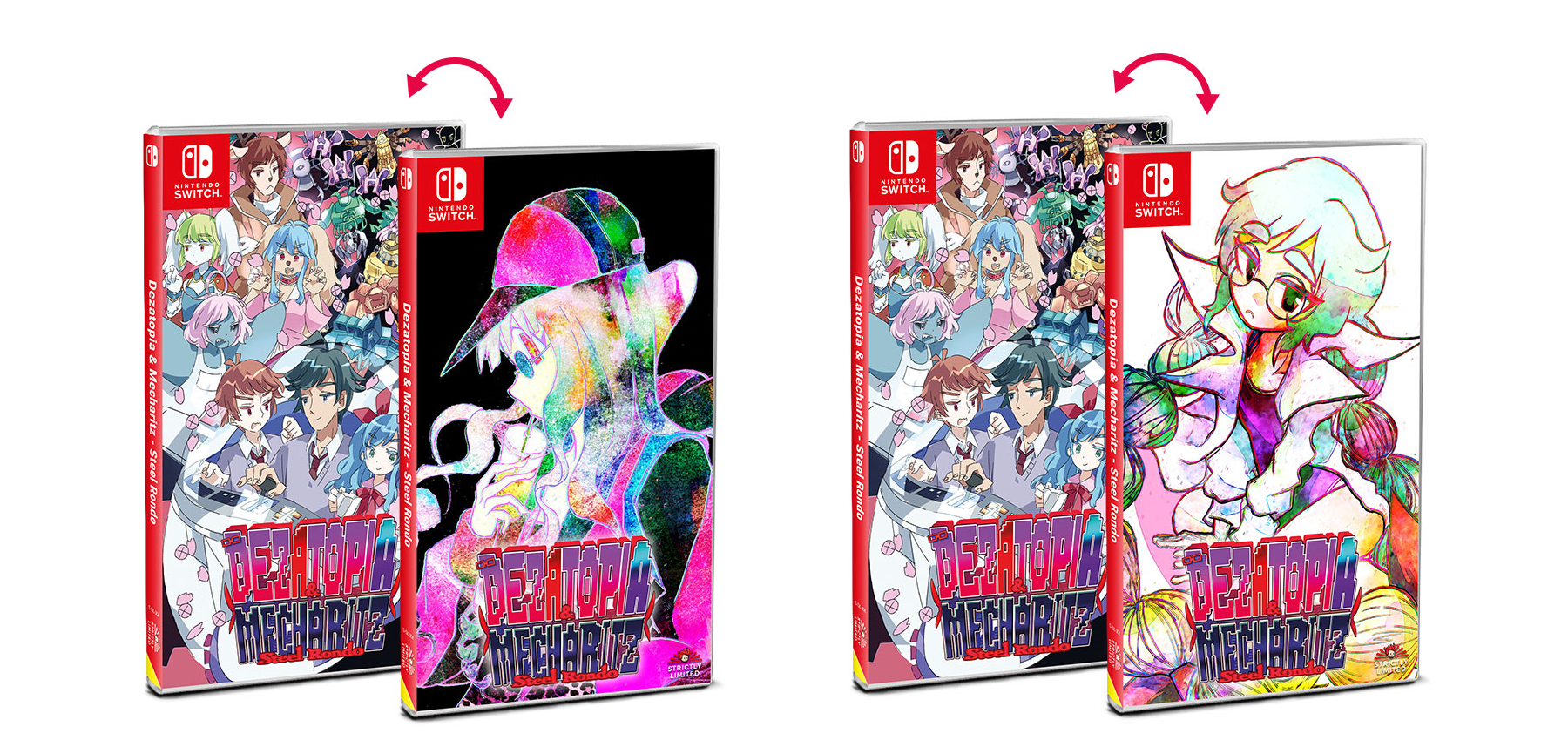 As a cool feature, you now have the option to choose between two variant reversible covers! Will you pick the Momoko or Veloce reversible cover art? Both look pretty dope, if we may say it ourselves.
Priced at very nice 59.99€ respectively,
Dezatopia & Mecha Ritz: Steel Rondo Special MOMOKO Edition
and
Dezatopia & Mecha Ritz: Steel Rondo Special VELOCE Edition
will be set at
500 Nintendo Switch copies each!
These Special Editions will contain the following additional items:
Special Edition Box
Nintendo Switch Game Card
Reversible Art (MOMOKO or VELOCE)
Official CD Soundtrack
Cool Reversible Poster
Staff Book w/ Insights & Graphics
Colorful Manual
There will also be an
optional 3mm aluminium
/
aluminum
art plate
available. This
high-quality collectible
makes for an
excellent display item.
Info here!
---
These pre-orders
will be available in two waves:
Round 1: 
Sunday, 4. DEC at 12 AM CET
Round 2: 
Sunday, 4. DEC at 6 PM CET
Click on the link above to check your local time. Please keep in mind that Sunday 12 AM CET could mean Saturday in your time zone.
–> The games are estimated to ship in Spring of 2023.